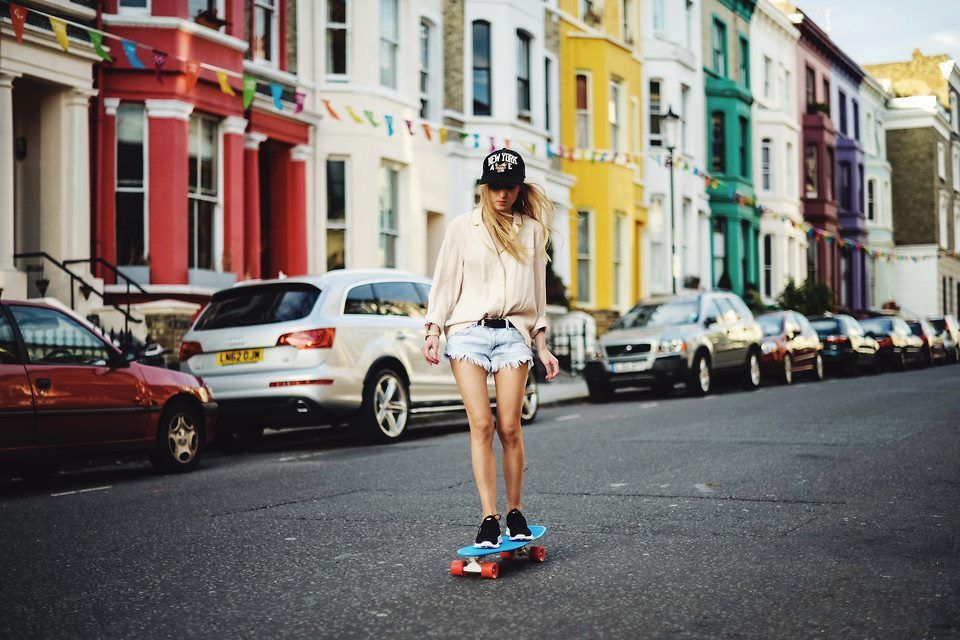 See this picture, can you see it? LOOK AT IT!!
(even stare if you want..)
I just saw this picture in my facebook news feed just now since I'm following LookBook (and now I'm starting to wonder why since all it gives you is jealousy) Not only did she have to wear an awesomegoodlookingbutstillchillrelaxed-outfit and top it off with like she coolest hat of all time but she had to do it on a freaking longboard as well (hey, the good ole skateboard is just too mainstream). All that on top of a pair of perfect legs sliding in front of like the most awesome neighbourhood caught on camera in London. Wtf. Why can't I do that? The closest I'd get to this would be to use my old wobbling skills on the skateboard which I share with my all time BBF's T and F from the time we decided to start skateboard (aka mostly carry the boards under our arms atempting to look cool. Mission failed) and that trend lasted us for about a week until we realized we'd never dare to do tricks like.. Ever (I mean, have you seen the 1000's of skateboardboyfailandfallonass-videos on YouTube..?) Either way, congrats to this girl for the awesome picture which I will neverinmylife pull off.
But instead of being jealous I'm trying to get inspired which fits quite perfectly in my schedule right now since I am meeting F at the mall in like... 36 minutes.
Cross your fingers that I will find something fabulous to take home,