So, if there is anything else than speaking french at work that is new to me it is the food situation. Since I just graduated from High School I've been eating at home and not having to worry about buying anything from my own pocket except for when I am out, so this is a little bit different.. Which is also why I am inviting you to my food cabinet! The right side is mine and the left one is A's (so it's her delicious Mickey Mouse chocolate ceral you can spot in the corner..).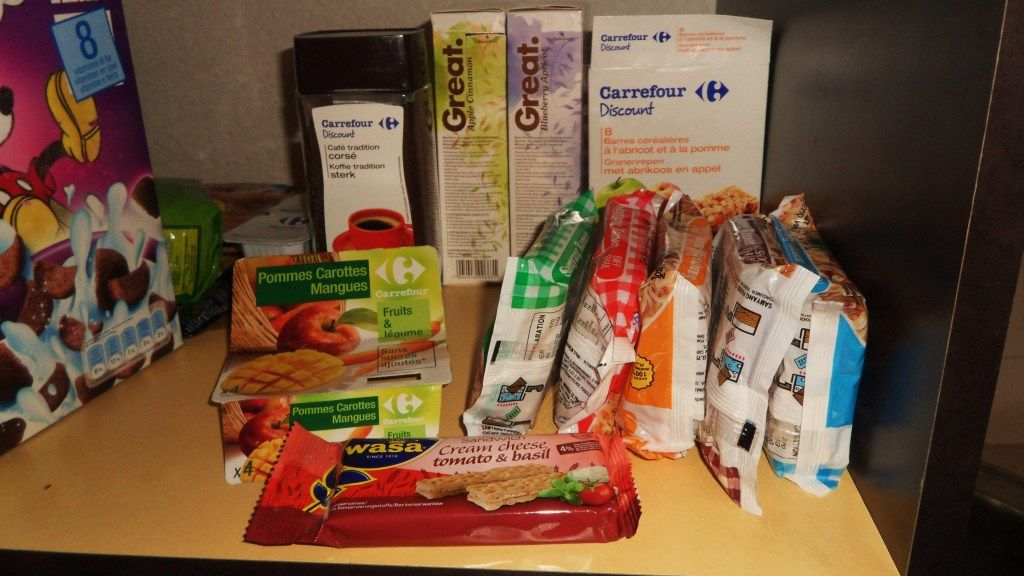 Food here is really cheap as long as you get the low price brands such as Carrefour's finest (aka the supermarkets own low price groceries...) I brought some noodles and oatmeal from home but the coffee, granola bars and apple sauce is all brand new. That humongous jar of coffee was like 2.50 Euros so yepp, I felt rich for once.. But I have now updated my cabinet with some couscous and cereal! (Good girl, right?!) But I just realized that I've been eating oatmeal for breakfast and dinner the whole 1st week, but I am getting better. I've even upgraded my food situation to the refridgerator where there is eggs, pasta sauce, yoghurt and frozed veggies atm (WOW). Maybe not "real" food but a great meal backstage where I eat lunch at work is only 2.04 Euros so don't worry, I am getting my nutrition alright.
So that's all from my food situation for right now,
see you next week, byeee!